Actress Temi Otedola's Cryptic Post Sparks Breakup Speculation With Mr Eazi
Billionaire's daughter and Nollywood actress, Temi Otedola has sparked breakup speculation with Nigerian singer, Mr Eazi, following a cryptic social media post.
IfakoIjaiyeNews reports that Temi took to her Instagram page to share a series of photos alongside a cryptic caption which threw many of her followers into confusion.
One of the photos captures Temi lying down in bed shedding tears and seemed to have sent the picture to someone else on WhatsApp and accompanied with the caption, "ur next slay is always after your last cry"
She also captioned the other photos shared on her Instagram page with disturbing words, "Forgiven and forgotten".
The post sparked reactions as many Nigerians questioned if Temi Otedola has been served 'breakfast' (a term used for breakup), while others claimed she was reminiscing on a movie she featured.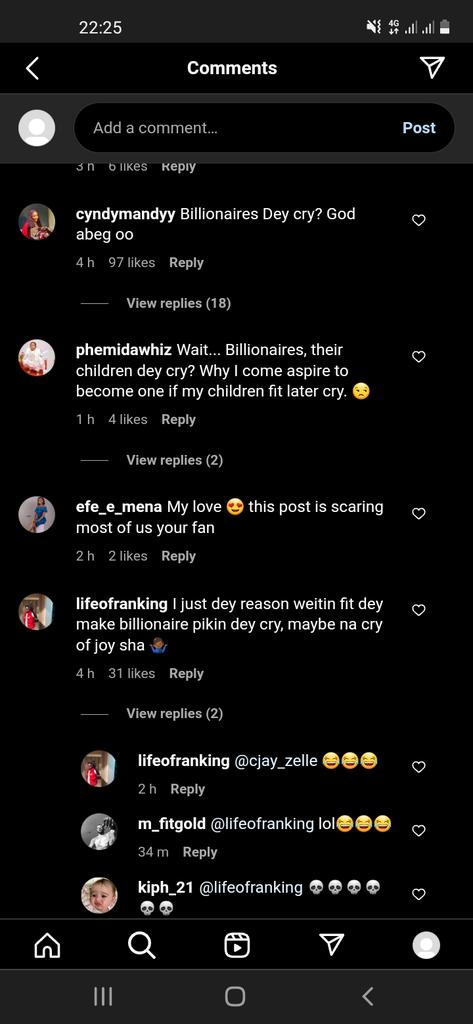 iam.kester wrote: "Hope say eazi never fuck up?"
calistabenedicta wrote: "I hope is not what I'm thinking forgiven and forgotten Mr Eazi come and explain"
big_renee wrote: "Who made my baby cry. Last last na every body go chop am (breakfast)"
naija_origin wrote: "The post is about her movie. Nigerians like bad news too much"
iam_anjie wrote: "It's just a normal and random post y'all should actually stop making a big deal out of it."
sharonofficial126 wrote: "Nigerians love breakup and divorce news tufiaaaa who do una this thing"
house_of_oris wrote: The rich also cry…I pray she finds peace
iamkellyeazy1 wrote: "If this marriage break up, i no go just marry again"
nasa_air wrote: "Breakfast no come get respect agn like dis?? E no even fear billionaire's daughter?? EWELEKE"
fabulous_lins wrote: "So make we all start crying, if there's anything I won't tolerate in 2023, na to chop other people's BREAKFAST with them, Abeg if you're served, chop am alone and cry alone inukwa"
BBTitans Update: Jenni O And Mmeli Bid Farewell To Big Brother House
Big Brother Titans (BBTitans) housemates Jenni O and Mmeli (Jenne Li) have been evicted from the Ziyakhala Wahala edition of the show.
Following the eviction show that took place today, February 12, the two housemates were told to leave Biggie's house immediately.
Recall that earlier in the game, Big Brother introduced a twist to the show when he announced that the housemates would be paired up for the rest of the show; hence, if they win, they win together, and if they get evicted, they bid the show goodbye together.
BBTitans housemates up for eviction were:
Jenni O and Mmeli (Jenne Li)
Yemi and Nelisa(Yelisa)
Khosi and Miracle(Khosicle)
Thabang and Nana (Thabana)
Juicy Jay and Olivia( Juivola)
Justin and Yvonne (Juvonne)
Speaking about how she felt about the eviction with co-host Lawrence Maleka, the ex-housemate, Jenni O expressed that she doesn't have any regrets about how she played the game, she however expressed shock on being nominated by Yaya and Marvin.
"I love Juicy, but he was not worth me looking stupid on TV for", Jenni O revealed when asked about her relationship with Juicy Jay.
Speaking to the show's host Ebuka, Mmeli said he had zero regrets on how he played the game. On the role he played as the 'advocate', he said he was just bothered about bringing people together. On his multiple situation-ships, he said he's not ashamed and he was only just trying to discover himself.
" I had a thing with Sandra, Nelissa and Olivia, they are all amazing women, and I enjoyed my time with three of them"
It is sadly the end of the road for this duo, but we are certain we will be hearing from them.
#BBTitans: Sandra, Theo Evicted From Big Brother House
Sandra and Theo codenamed 'Santheo' have been evicted from the Big Brother Titans (BBTitans) show.
They both became the first evictees for the BBTitans show's debut season. While Sandra is Nigerian, Theo Traw is a South African.
After the first week of the show, the housemates were paired male and female.
According to Big Brother, the paired housemates were to work together in the house, become Heads of House, and face nominations and evictions together.
Each pair was asked to choose a codename and some pairs coined their group names by merging their individual names.
During the nomination process on Monday, the following pairs were put up for possible eviction: Sandra and Theo Traw (Santheo), Tsatsii and Ebubu (Royals), Justin and Yvonne (Juvone), and Nelisa and Yemi Cregx (Yelisa).
The Heads of House, Blaqboi and Ipeleng (Blaqleng), had an opportunity, through their veto power, to save a pair and replace with another.
Blaqleng saved Royals and replaced them with Juicy Jay and Olivia (Juiovla).
After the veto save twist, the four pairs of nominated housemates were Juvone, Yelisa, Santheo, and Juiovla.
Following the votes from the fans, Santheo got the least votes and were evicted from the show on Sunday.
On his exit, Theo Traw said, "I didn't get much from them (housemates) in terms trying to have conversations," while Sandra said, "I was stepping on toes and cracking necks."
With Sandra and Theo Traw's eviction, 22 contestants (11 Nigerians and 11 South Africans) are left to compete for the grand prize of $100,000.
Netflix To Stop Password Sharing By March
Subscription video on-demand over-the-top streaming service, Netflix, has announced that it will bar users from sharing passwords for free by the end of March, 2023.
The company had announced in October that it would begin charging subscribers who share their accounts but did not give a specific date or information for when the new policy would be enacted.
However, in a letter to shareholders, Netflix said it would implement the paid sharing system across the platform in the latter portion of quarter one.
"Today's widespread account sharing (100M+ households) undermines our long term ability to invest in and improve Netflix, as well as build our business. While our terms of use limit use of Netflix to a household, we recognize this is a change for members who share their account more broadly."
So we've worked hard to build additional new features that improve the Netflix experience, including the ability for members to review which devices are using their account and to transfer a profile to a new account."
The company noted that the new policy would likely lead to "near term engagement" being "negatively impacted" as some users stop consuming content on the platform due to the loss of a free account.